Hello folks
I am happy to report that so far this week (all two days of it), the SP 500 index has regained some of last week's lost territory, and on December 9, came close to hitting its most recent 52-week high, 1813.55, which was hit on November 29. The "1800 to 1810" area appears to be the most recent obstacle course, as anytime the index enters that territory, it gets dragged down and sent back lower. My opinion is that if the index can clear and remain above 1810 for multiple sessions, this may open up the highway ahead for additional gains and new higher territory.
The market is likely concerned over the December 17-18 Federal Reserve meeting, in which (yet again) some believe a reduction of the QE program will be discussed or decided on. Additionally, some nervousness existed regarding the lack of a budget deal, however this should be subsided going forward now that a budget deal was agreed to this evening, as reported by the Washington Post. The article reports that the federal government is now funded thru the fall of 2015. The article also reports that the two-year slide in federal spending is "reversed."
The SP-500 futures responded positively to this news, then traded flat for the remainder of the evening session. Lets take a look at some charts to assess how the market is doing. The first chart is "close only" chart, in other words, it shows only the closing level of the SP-500 index each day. This is helpful to see thru the daily noise and volatility as the "close" is the point everybody went home at. The next charts depict the normal daily trading, with the full day's price activity displayed. Observe that the first week of December reflected selling, based on lower closes and above average volume. This is clearly not desired and is a "warning sign" that I look for, regarding possible new Bear markets / downtrends.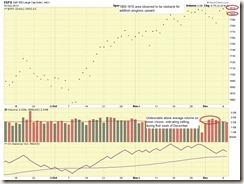 Normal, unmarked SP-500 Chart, for review, prior to third chart, which is same chart but with my comments/annotations: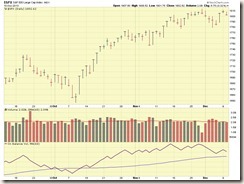 Same chart, with my comments/etc.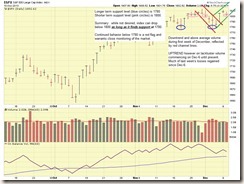 Please send me a reader e-mail if my charts are confusing or seem like voodoo.
Observe that this week, volume has been less than average (so far), likely due to people staying on the sidelines in light of budget uncertainty (resolved this evening) and the Dec 17-18 Federal Reserve meeting.
Being that a reduction in QE will almost certainly impact the markets, in a negative manner (for how long, is not known), my "take" on this, is that the Federal Reserve will not take any action regarding the QE program during this meeting (they will likely address it early 2014), because:
1. Congress is on Christmas break Dec-13 to Jan-7 2014. I doubt any decisions (and subsequent announcements by FOMC) regarding a critical economic program will be announced by Obama/FOMC/etc. while Congress is out of the office. Some of the members of the Senate and House banking/finance committees would likely desire to be cc'ed and/or participate in any such news announcements, and they will be on break.
2. Any such news will be initially received as negative and a sell-off in the markets will likely occur. The private citizen aka voter, who is making holiday preparations and putting up his Christmas tree, does not want his holiday period ruined. As such, I doubt the FOMC will be looking to drop bombshells over the holidays. NOTE: The FOMC is not "elected" by voters, however any bad news will be attributed/associated to the political party/politicians in office. The FOMC Chairman is nominated by the President.
3. And, 2013 has been a tough year, in the politics category. Between sequestration, fiscal cliffs, furloughs, closed government offices, locked down National Parks, etc., the private citizen just doesn't need yet another stick in his eye this year from Washington. I am sure the Washington consensus is "lets get 2013 over with" and then this will be acted upon in 2014.
4. Any QE reduction announcements, when declared, will have some sort of economic stimulus or similar policy attached, to "soften" the blow to the markets. Remember, QE reduction is because the economy is recovering. And what does the voter care about ? Jobs. Employed people buy products, houses, make investments, and stimulate things. Unemployed ones do not. I anticipate some sort of new incentive regarding additional, further job creation or worker benefits to be announced when the QE reduction announcement is made. This, in theory, will stimulate the economy even more, and help soften any hard drops the market may have on QE reduction news alone. Also, the administration may be sitting on already existing good news or data and is waiting to "package it" with the QE announcement.
All funds are performing close to each other, and my personal TSP Allocation remains 50% S-Fund and 50% C-Fund.
Thanks for reading, and please forward this update to your coworkers or colleagues that may find it interesting. Thanks.
- Bill Pritchard