Tonight August 7 , per public news sources, President Obama authorized military air strikes in Iraq.    A review of both the markets since August 1 (the last update to this site, released in evening July 31) and the behavior of the SP 500 evening futures (likely "in response" to Mr. Obama's announcement), has caused me to return to 100% G-Fund.   Note that the Ukraine situation is ongoing, as is the Gaza/Israel situation.   As stated before, "we are in challenging times" right now.
As previously discussed, on July 31, Argentina defaulted on its debt.   I argued that "Argentina didn't matter" and I believe I was largely correct, however the indexes continued to go lower.   On August 1, the Department of Labor released data reflecting a 6.2% unemployment rate.   As discussed previously on this site, improved unemployment rates below the 6.5% threshold level are believed by many to be the "green light" that the FOMC needs to raise the Federal Funds Rate.   We now have a guaranteed future rate hike, as prior unemployment data has shown a continued trend of improvement, versus a one-time data anomaly.  Furthermore, "rate hikes" are not welcomed with open arms by Wall Street, and this will continue to cause additional indigestion for the markets.  The next rate hike will likely occur in Summer/Fall 2015.
Also, since August 1 (a mere six days ago), the Gaza/Israel and Ukraine situation has grown worse, or at the minimum, not improved.   This has caused additional heartburn for the markets.
Lets look at the long-term chart of SP 500, a one month chart of the SP 500, and charts of the SPY ETF which tracks the SP 500 Index and is helpful in order to monitor volume activity.   Comments are on the charts themselves.    Important to note is the 1930 level on the SP 500 has been penetrated to the downside and the index has not shown a desire to resume its uptrend.    Also important to note is the overall uptrend of the market, existing since early 2013, is still largely intact (and why getting on and off the "train" is fine, as long as the train is still going in the direction you want).    However it is my opinion that greater, more severe, pain may occur in the markets in two to four weeks.   I am getting off the train, which appears to be slowing down.   As the train slows, I am jumping off now (and maybe twisting my ankle and getting some bruises) versus remain a passenger, as the train approaches (a possible) a fallen bridge a few miles ahead and plunges into the river below.
Lets take a look at the SP 500 futures evening session.   Note that the only major event I can associate with tonight's sell-off is the news announcement regarding airstrikes in Iraq.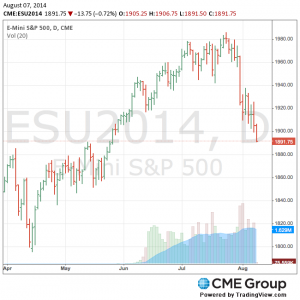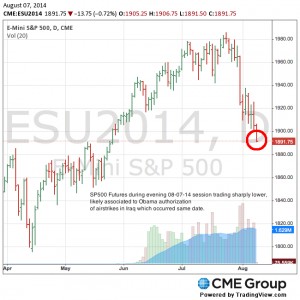 In summary, I am going 100% G-Fund (request submitted tonight, will likely not take effect until Monday) for the time being.   In addition, I am placing tight sell-stop orders in my personal brokerage account, regarding my personal stock holdings.
Thanks for reading !    This post done via my MacBook (TDY right now…) so some graphics or text may end up looking different from prior posts.
Please share this update and my free site with others who may find it useful or interesting.    Thank You.
- Bill Pritchard