On my prior post, regarding the FOMC meeting, I posted that
Most in the financial press are stating that the language of "patient" will be removed from their statement, but it is my OPINION that while the word may be deleted, the message will not be.
Then at the FOMC press conference, FOMC Chairperson Yellen stated
"Let me emphasize, however, that the timing of the initial increase in the target range will depend on the committee's assessment of incoming information.
Today's modification of our guidance should not be interpreted to mean that we have decided on the timing of that increase. In other words, just because we removed the word patient from the statement doesn't mean we're going to be impatient….."
RE:  http://www.marketwatch.com/story/highlights-of-the-yellen-press-conference-2015-03-18?dist=afterbell
Well, I don't know if I could have "called it" any better folks.  Look at her words and look at mine, which I released in my prior post. NOTE:  Check the "other" TSP sites, to include other general investing sites, and you will have difficulty finding such accuracy elsewhere on other sites, regarding market analysis.  As expected and previously discussed on this site, inflation seemed to be an important topic at this recent FOMC meeting.
With that said, the markets (as I anticipated) responded with enthusiasm, with the Dow going up 227 points.   The best performer today were International stocks (I-fund).  The next best performer was the C-Fund/large cap stocks, then small cap stocks/S-Fund.   I will be assessing my current TSP allocation and possibly making a change in one to two weeks.  ALL stock funds benefited from today's news, FYI.   The SP 500 went up on high volume, and briefly cracked an important psychological level, 2100, then closed very slightly under that level.   See chart: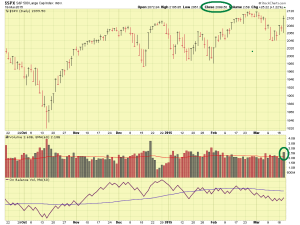 Below is a link to the PDF version of the statement, my comments are in red, and the important portions of the statement are highlighted in yellow.
I remain 100% S-Fund with a possible fund allocation change to my account in one to two weeks.   TSP participants who were invested in stock funds prior to today (as I was) realized gains in their accounts and will likely witness additional gains if the market uptrend continues.   Please continue to refer your friends and colleagues to this website, for unmatched market analysis and commentary.
– Bill Pritchard