Hello Folks
As we enter the middle of April's first full trading week (April 1 and 2 was last week, and April 3 the markets were closed), the sideways action on the SP 500 continues.  On my prior post, I discussed what 2080 represented on the SP 500 index.  In a typical self-fulfilling prophecy, the index has stayed near that level and refused to find any direction (we prefer the upward kind of direction) whatsoever.   Lets look at two charts, one with no graphics, then one with graphics: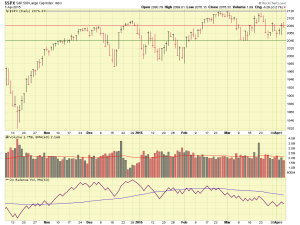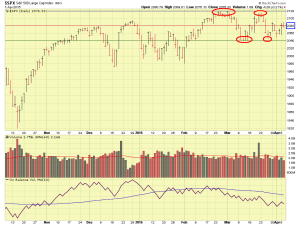 As is evident in the charts, the index continues to trade "sideways" and on low volume.   This is reflective of a market which desires a trigger event, to forcefully kick the ball up or down the hill.  Absent such an event, we may see continued lackluster action in the near term.   April monthly action (so far) indicates that the  S-Fund and I-Fund are neck and neck in terms of fund performance, with I-Fund taking a slight lead as of April 7 2015.  I would not jump in or out of anything right now, I personally desire to see a clear direction in the indexes before attempting to ascertain what fund is the clear-cut winner over the other funds.
Not surprisingly, is that all the panic and doom regarding interest rate hikes has subsided, and now (have we seen this movie before?) people are slightly embracing negative economic news as "good news" since this may result in a delay to the interest rate hikes.  NOTE:   See my Sept-10-2013 post regarding "good news is bad news" for a discussion of this concept.
In summary, I remain 100% S-Fund and await the market to find (hopefully) a new uptrend.  Cautious note is that mid-April thru mid-May is the release of corporate earnings and performance data for the first quarter of 2015, and this will likely push the markets one direction or another.  Until then, sideways action, in and of itself, is not a bad thing, and I see no warning signs or chart signals causing me to exit stock funds.  I remain 100% S-Fund at the present time.
Thanks for reading and please continue to share this site with friends and coworkers.   Talk to you soon everybody…
– Bill Pritchard