Hello Everybody
The markets had been in a nerve wracking decline since December 8, however found "a bottom" at the 1972 area on the SP-500 on December 16, then resumed upward rather strongly after that. I did not get overly concerned (but yes, somewhat concerned) because my other indicators were not flashing red flags. Various opinions exist on the cause of the decline, mostly this was attributed to Russian economic problems and President Putin. Apparently cheap oil is not good for Russia's primarily oil based economy (they don't produce much of anything else) and fears of a Russian economic collapse sent global markets down. We also had folks in financial press discussing why "cheap oil" is bad for the US economy. Which of course I can't agree with, as cheap oil means people will take road trips, airlines will report higher profits, FedEx pays less to fuel their trucks, and oil based products such as vehicle tires arguably will not be priced as high. I wonder how the economy would do if gasoline was $8 a gallon instead of $3.
Fast forward a few days after Dec-8 to the FOMC meeting and there is no indication that the expected Summer/Fall 2015 interest rate hikes will be accelerated, a worry in some circles. This, combined with the abatement of Russian fears, sent markets soaring. This is also why I analyze things based on numerous indicators and not just what happened on one day.
It is important to note that the S-Fund is the top performer so far this month, however C-Fund is very closely next in line. My TSP allocation remains 100% S-Fund.
Some trivia regarding this past week's events are that our two consecutive 200+ point gains in the Dow Jones Index, which occurred this past week, occurred previously the only other time was six years ago. So the market is displaying "positive behavior" not typically seen. The SP-500 had the best two day gain since 2011. And on December 18, the Dow Jones Index had its biggest one day gain in three years.
The new "overhead resistance level" on the SP 500 is 2080. Any penetration of this level is an All Time High and a good thing. Crude Oil is at not-seen-since 2009 lows of $55. I attribute this to our fracking oil exploration (I have friends in this sector) which is partially derivative of President Bush's desire to not rely on OPEC. Like all supply and demand equations, a Catch-22 exists, you can produce yourself (provide supply) out of business via cheaper and cheaper prices and soon it costs more money to drill the oil, and extract it, than it is worth. That is beyond the scope of this site but you get the idea.
See some charts below regarding Crude Oil and SP 500 Index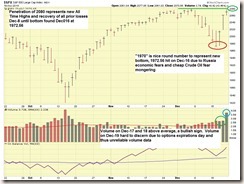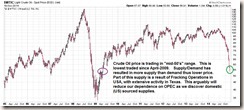 In summary, it appears the recent speed bumps are behind us and the market has found a new uptrend. I remain 100% S-Fund. Note that Dec-22 week trading will be light, anything that happens that week can be basically discarded as unreliable action. Ideally we do exit 2014 on an uptrend, as this "sets the tone" for the New Year.
I wish everyone a Merry Christmas and Happy New Year, as I will not likely be reporting much during the next two weeks. I hope over this year, this site has generated thought, increased awareness of the markets, protected your balance from some damage, helped your balance realize gains, and provided some entertainment. If the above have occurred, then 2014 was a good year for this site. Please continue to share this site with your friends and colleagues and encourage them to sign up for free e-mail updates.
Thank You !
- Bill Pritchard